"How can I check growth in Facebook likes in Google Sheets?"
"What are good tools to use for analyzing Facebook posts to gather insights?"
"How do I scrape any Facebook page posts data to Google Sheets without programming skills?"

Facebook Advertiser
Facebook Pages are one of the important channels to reach your audience. But the amount of data you need to track is overwhelming and manual reporting is a nightmare. You want to understand what your Facebook posts are doing and make business actions. But the interface and ecosystem are too stringent.
Google and other tools are better with reporting given their ecosystems. So this means that the integration is easier and you can start analyzing the data quickly. But Facebook doesn't have that luxury.

You CAN import Facebook Page Insights data to Google Sheets. You copy and paste until your eyes and fingers can't take it anymore. That's manual reporting and it's an unbearable nightmare. Or export endlessly to separate spreadsheets as mentioned in Facebook's help center.
Who wants to do that?! There are better ways to automate this task and save time.
How To Import Facebook Page Insights To Google Sheets
To connect Facebook Page Insights to Google Sheets, you need a Google Sheets add-on. These add-ons are usually paid add-ons. As mentioned, you can do it manually (for free) to save money. But in perspective, you might want to spend a little bit to save time. You choose.
In this article, we import social metrics from Facebook Pages and not data from Facebook Ads. These metrics are likes, organic reach, content impressions, and other organic engagements.
You'll use Two Minute Reports for this example. Two Minute Reports imports data from the Facebook Page API directly to Google Sheets in minutes. No required coding skills.
Installing The Google Sheets Add-on
1 – Go to your Google Drive workspace.
2 – Click '+ New' then create a new Google Sheets file.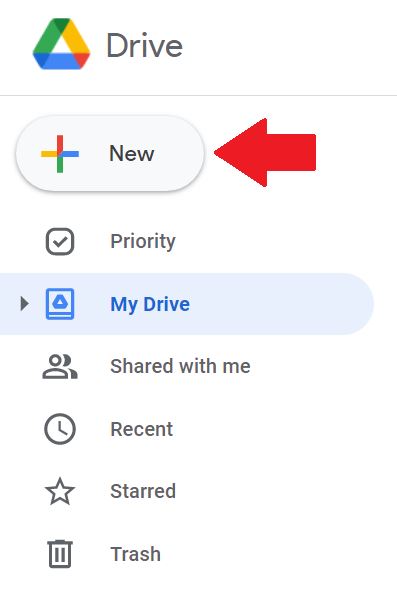 3 – At the top, click Add-ons. Then click 'Get add-ons'.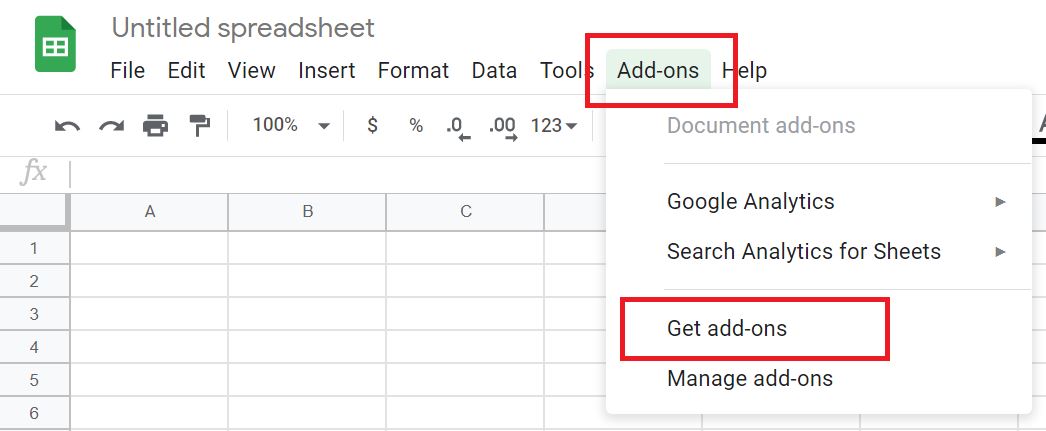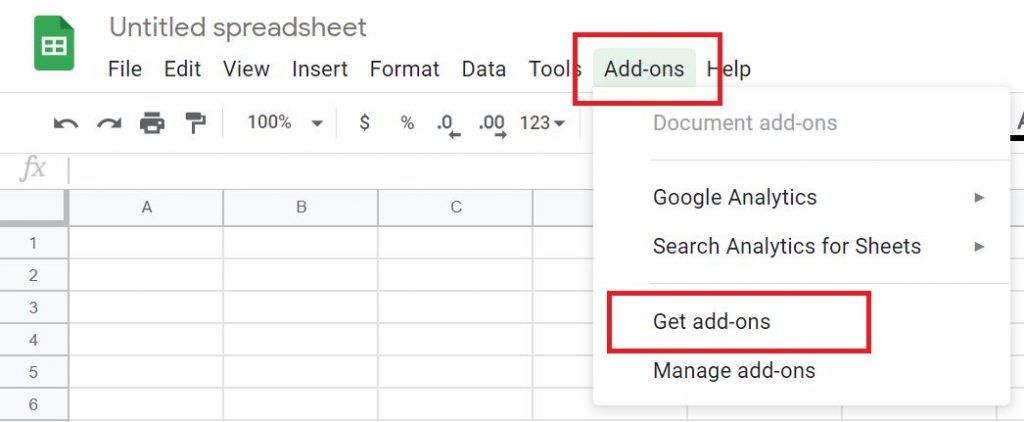 4 – Search for Two Minute Reports. Then install it.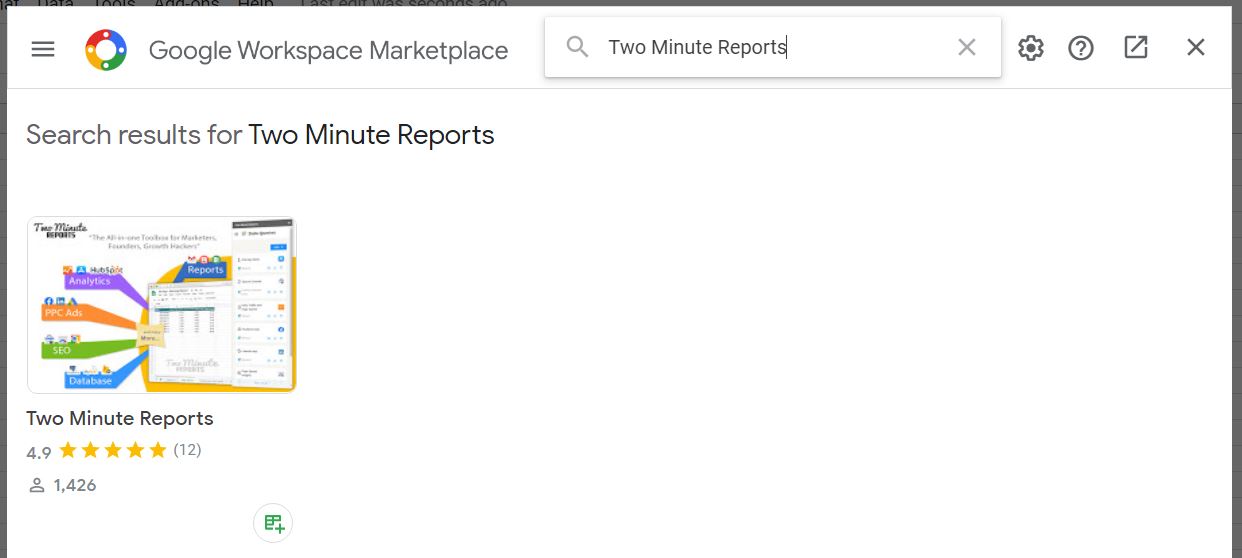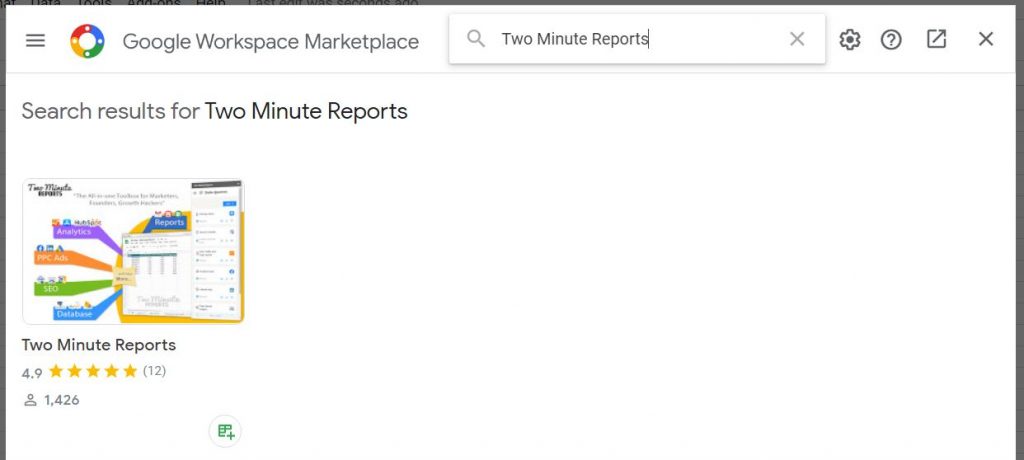 5 – You now have the add-on installed on your Google Sheets workspace.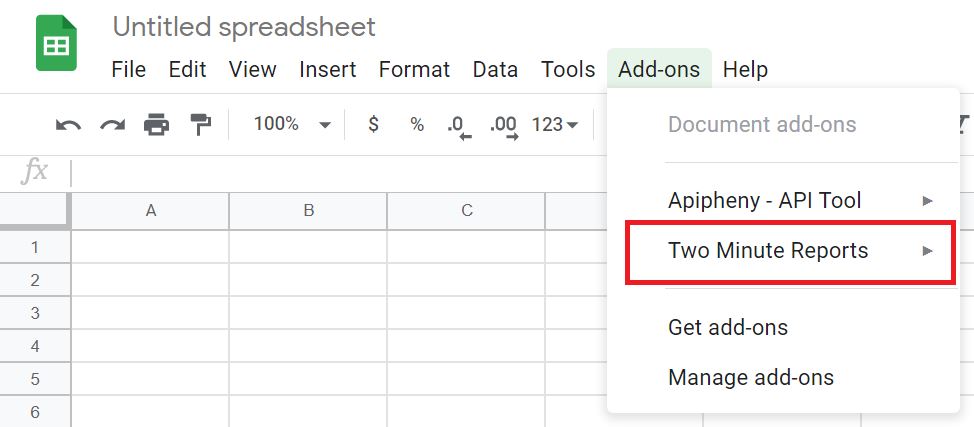 Import Facebook Page Insights Data Source
1 – Launch the add-on. A navigation pane on the right side will appear.


2 – Click Add + under Data Sources.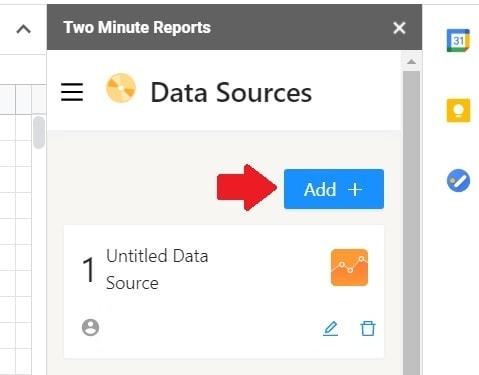 3 – Name your data source. Then select Facebook Page Insights.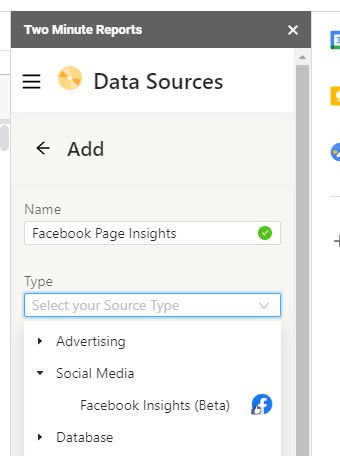 4 – Log-in to your Facebook account.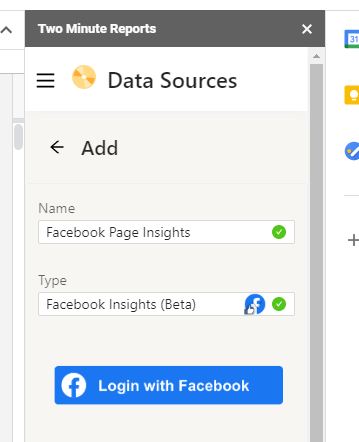 5 – Link your Facebook account to the tool. To be sure, give full access to the tool for seamless integration.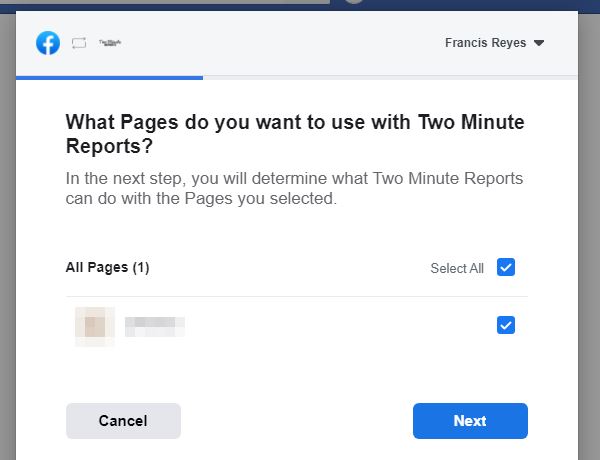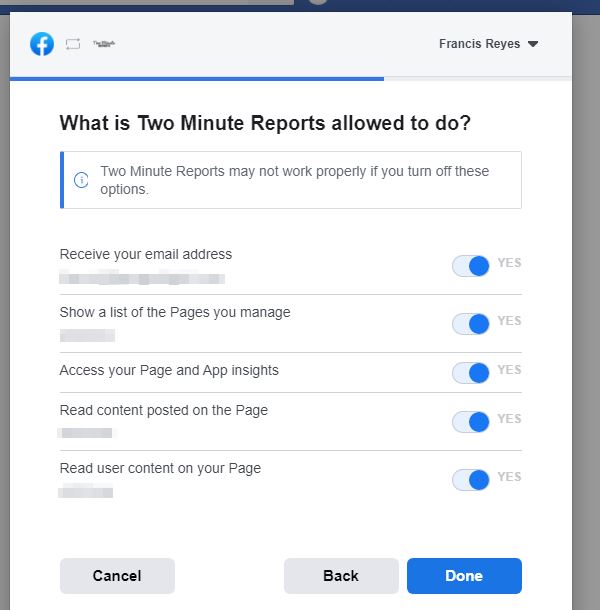 6 – Go through the login process until the tool instructs you to close the tab since the sign-in is successful.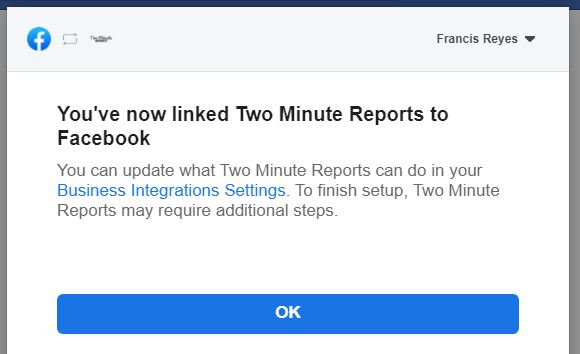 Import Facebook Page Insights Data Query
This point in the process is importing data from the Facebook Page Insights API to the spreadsheet.
1 – Click the burger icon. Then click Data Queries. And click 'Add +'.
2 – Name your data query. Then find the Facebook Page data source you imported earlier.
3 – 'Save on Sheet' is the location of the sheet where the data is imported to. Add "A1" under Cell.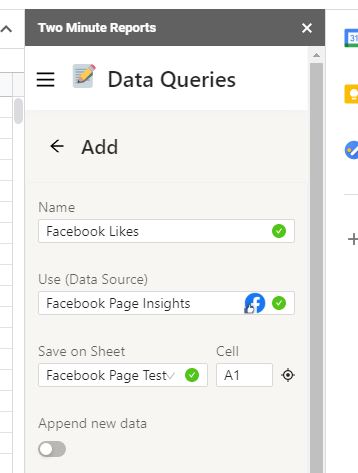 4- Under 'Query', select the Facebook Page you want to get data from. *See further down this blog post to learn how to give permissions on Facebook.
5 – Select the 'Metrics' you want to import. In this example, we use Total likes, New likes, New likes (unique users).
6 – Select the 'Dimensions' you want to import. In this example, we use Page name, Post ID, Post message, and link to post.
7 – Select the date range with whatever you need. In this example, we use last 3 months.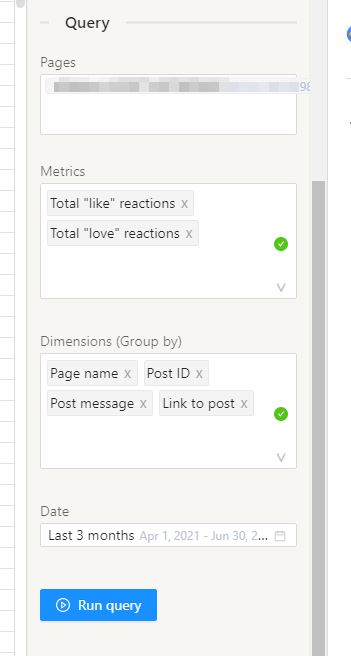 8 – Click 'Run query'
Viola! You imported your Facebook Page Insights data to Google Sheets hassle-free. You can create reporting templates from here depending on your business needs.

In this example, we imported and reported organic posts from Facebook Pages. The number of organic likes, organic reach, and the number of overall organic social engagements are now within reach. You can adjust the parameters depending on your use cases. Two Minute Reports is more than enough to help you make business decisions.
Schedule Facebook Page Insights Reports
Two Minute Reports has a scheduling function. This means the spreadsheet will refresh the acquired data from the API. Reports are automated even more.
1 – Click the burger icon. Then click Schedule Refresh. And click 'New +'.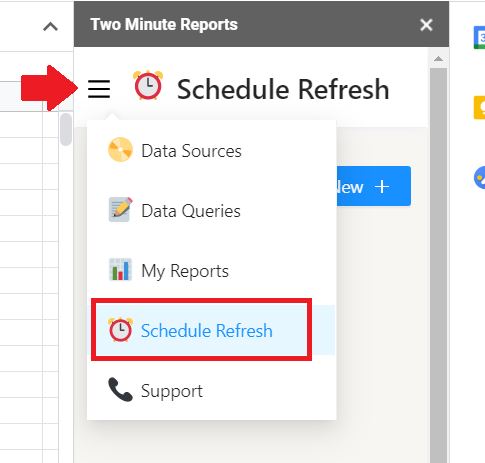 2 – Once inside, you can set the terms of the report schedule.
-Name
-Repeats -> This is where you set how often the data refresh happen. Two Minute Reports can do hourly refresh.
-Timezone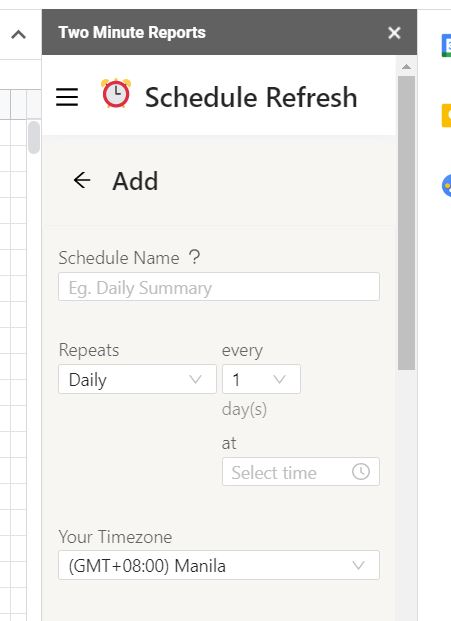 3 – You can also set the notification terms. Two Minute Reports can email you a PDF or Excel of the data. You can also decide to have the email contain the sheet content in the email body.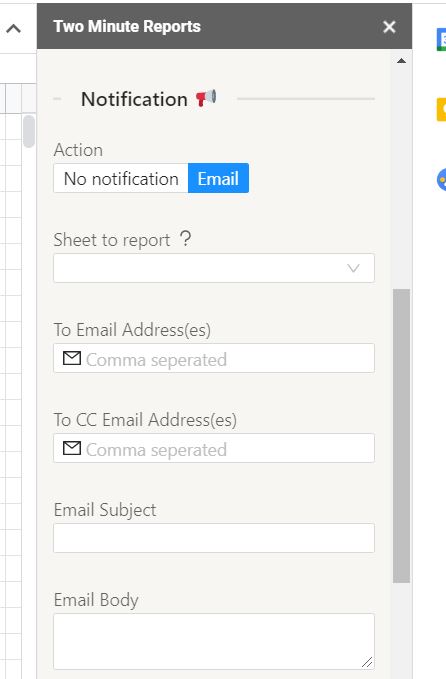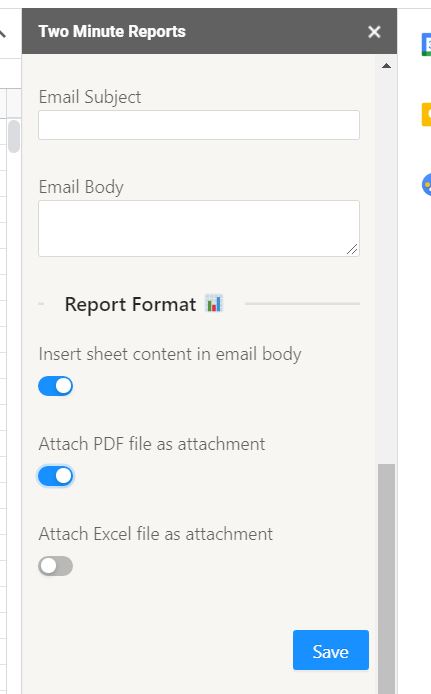 4 – Click 'Save'.
Scheduling helps when you need to report on Facebook Page organic engagements overtime. No more copy and paste every day, or every week, or every month.
Bonus: How to Add User Permissions on Facebook Pages
1 – Go to your Facebook Business Settings. Go to Accounts > Pages. Click 'Add People'

2 – Enter the user or email address that needs access to the data. It's most likely yours. To be sure, give full access to have seamless user integration.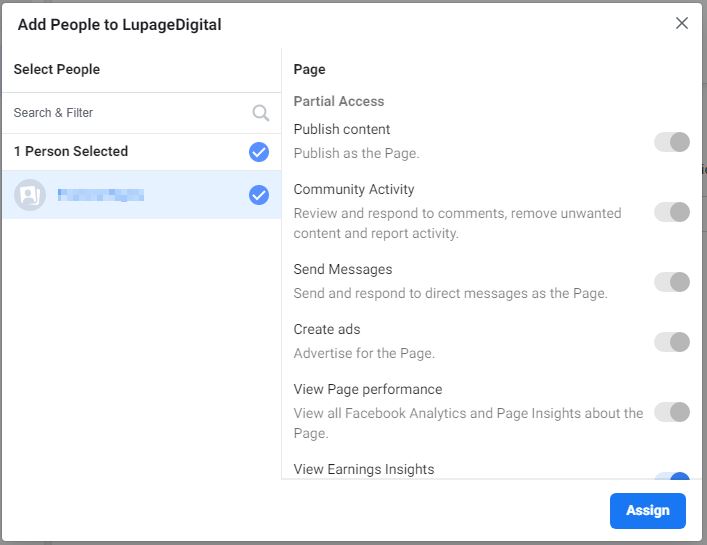 4 – Once assigned, that person will have access and can now import Facebook Page Insights to Google Sheets.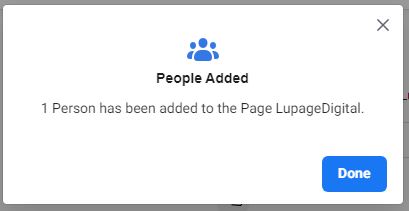 Conclusion – Connect Facebook Posts Data To Google Sheets
This is one of the many add-ons to connect Facebook posts data in Google Sheets. These are the methods to that integrate between third-party tools. These add-ons cost money but the benefits outweigh more. Avoid import and export hell. Stop wasting time on repetitive tasks and start making actions.