You might be a web developer, digital marketer, or web analyst. Learning Google Tag Manager is not an easy feat. A person searches for GTM resources to get the hang of using the tool since it's challenging to use.
One resource that stands out is Julius Fedorovicius of Analytics Mania. His website often appears in Google when you search for anything Google Tag Manager.
He provides in depth-articles for creating event tags. Articles that make Google Tag Manager a digital marketing tracking machine. He also offers an online course, "Intermediate Google Tag Manager Course".
Is the course worth it? Yes!
Reasons To Enroll In Analytics Mania Google Tag Manager Course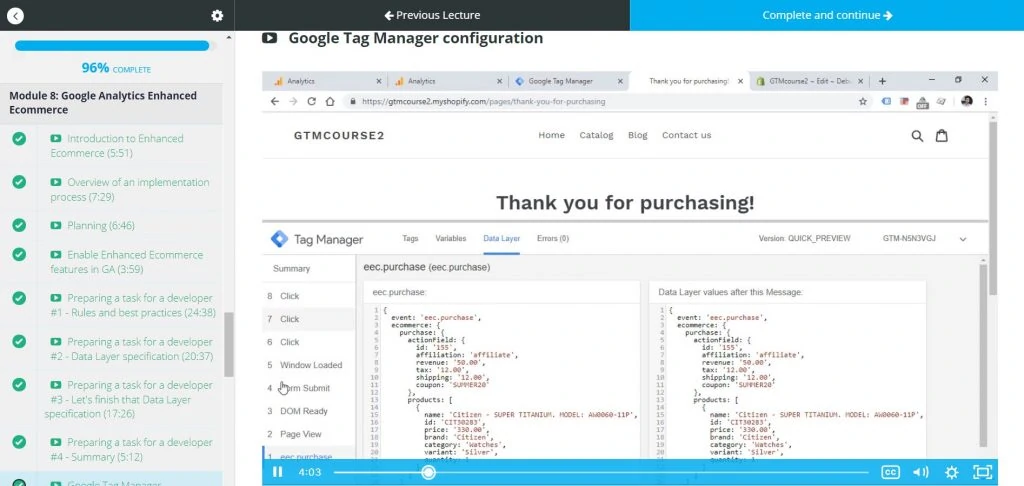 1 – Video format is better than written format
Some people learn more about a content format than others. But for a technical course, the video format is well structured. I prefer the video format to learn Google Tag Manager.
As this is the advanced course, there is a re-introduction of the basic concepts of Google Tag Manager. Even if you didn't take the basic course (like me) no big deal. Then again, you don't take an advanced course if you don't take a basic course.
2 – A deep dive into enhanced ecommerce tracking
The main reason why I took his course. I wanted to learn this headache on how to install this. Ecommerce websites need enhanced ecommerce tracking. There's no doubt about that.
I learned in this course that Google Tag Manager does not replace web developers. The GTM specialist needs to send the appropriate data in a structured format.
Which leads me to the next reason…
3 – Enhanced ecommerce data layer template
The course gives a data layer template. A document that is filled out already that you can give to the web developers and engineers.
The data layer has a schema that might be confusing but Julius's course does a great job on simplifying them. The document lists all the steps in the enhanced ecommerce activity for easy communication.
You can download a copy of the enhanced ecommerce data layer template for your projects.
4 – Variables, variables, variables
The course digs deeper into the different variable types. These are the building blocks of Google Tag Manager. Julius explains all the variables and the different use cases well.
There was an explanation between Custom JavaScript and JavaScript Variable. To the novice, they might seem the same but Julius explains the different use cases well. I use these variables as well so I use this section of the course as a reference.
5 – CSS Selectors
Another part of the course explains the CSS selectors in detail and how they are applied. Let's say you want to track clicks on a specific website element, the CSS selectors help do that.
Julius teaches how to catch the CSS and other HTML elements that you'd like to track on a website. You learn a little bit about coding in the process. If you ask me, this is great if you want to level up your technical marketing skills.
6 – Custom Dimensions and Custom Metrics
Another reference I go back to is installing custom dimensions and metrics. Dimensions and metrics are one of the building blocks of Google Analytics. Google Tag Manager complements installing them and Julius's course provides this information.
The video that explains how to add custom metrics and custom dimensions is a gold mine. I install customization and I use Julius's course to guide me.
7 – Getting your feet (or toes) wet on HTML, CSS, and JavaScript
This is not a web development course but the overlap of GTM with HTML/CSS and JavaScript is obvious. I've mentioned that learning HTML/CSS and JavaScript is useful for a digital marketer. Google Tag Manager highlights that there's coding in digital marketing.
Julius's GTM course does a great job on this.
8 – A comprehensive curriculum and other materials
Each video that Julius provides is comprehensive. They are not short. You hope to watch a short YouTube video to learn. But learning Google Tag Manager warrants a lengthy video to dive deeper.
I learned from other video sources. They are okay but Julius's GTM course is more complete.
Also, there are other materials like a GTM audit checklist for your arsenal.
9 – A sandbox website and final test
Practice practice practice. Application of what you learn is important and the course provides a sandbox website. Julius highlights the GTM concepts and encourages you to practice on the sandbox website.
You also need to submit work to Julius to pass the course. You are "forced" to apply what you learned. I like this approach because you can make mistakes as many times as needed.
10 – Q&A sessions
An added value is Julius arranges a Q&A session every other month. This is an opportunity to ask him questions on anything related to Google Tag Manager. He sets up a live video conference for this and is exclusive to his students.
He answered my question about adding enhanced ecommerce tracking for Shopify stores. Thanks, Julius!
11 – Application on the job

I worked with web developers on adding enhanced ecommerce tracking for a website. Guess what, I'm using Julius's materials. Julius's enhanced ecommerce data layer template is a lifesaver. I don't need to second guess what the data layer format is.
I'm also confident in adding click tags and tracking internal links using CSS selector triggers. Then add them as custom metrics for a bigger view on analytics.
12 – Expensive and too technical
A downside from Julius's Google Tag Manager course is that it's really expensive. The price might repel people and prefer other affordable means. Well, the price is worth it. The course updates with new content and I have lifetime access anyway.
Another downside is that might be too technical to some. But then again, that's the point of an Advanced Course in Google Tag Manager. It's meant to be technical.
If you have a technical appetite, the course packs with useful tidbits. You also learn how to code in some ways. This course is not for the squeamish.
Conclusion: Analytics Mania Google Tag Manager Course is Worth It
As a consultant who is doing all this on my own, Julius equipped me on how to navigate Google Tag Manager. I didn't think I would be okay at it (still lots to learn) but Julius's teaching style is very encouraging.
If you plan on learning Google Tag Manager, Analytics Mania is worth it.
If you plan on leveling-up your digital marketing skills, Analytics Mania is worth it.
If you plan on learning a skill set that is in demand, Analytics Mania is worth it.
Learn more about Julius's Google Tag Manager course. This course is a must-have.