I learned a lot from starting my website (Lupage Digital) even if it's still young. I made it as a portfolio website at first. But given my experience with SEO and Web Analytics, I figured to build it with lead generation in mind.
I figured that if I build one website, mind as well turn it into a great investment of time and asset. So I faced to not create a "me me me" website only. That said, it was daunting at first, but I powered through it. I was patient enough. Then I watched videos on YouTube on how to start a website.
I work in the marketing analytics space and the website built on WordPress. Here are some key takeaways I learned:
8 Lessons I Learned From Creating My Website Lupage Digital
1 – Website hosting and website domain registration are different
A web developer might read this and think "Duh. What are you, stupid?".
To be honest I didn't know they were different. When I secured my web hosting, I learned that domain registration is separate. So I had to sign-up with another service provider and registered there.
I also learned, which is quite interesting, that .com is the cheapest domain. Buying a country-code top-level domain (ccTLD) such as .ph, .com.au, .co.uk, and others are more expensive.
2 – A WordPress theme doesn't design the website. That's the job of the landing page builder
This is a technical one. There's a steep learning curve on knowing WordPress as a custom management system.
WordPress has many themes to install from that have the capabilities to design the blog. But the WordPress theme doesn't design the look for your website, in most cases that's the job of a page builder.
The same thing applies for Shopify stores. Changing a product is not as easy as clicking a button. You need to investigate the correct user interface to change the specific styling.
3 – Designing a website takes longer than choosing a hosting and domain
Setting up web hosting and registering a domain is easy compared to designing a website. Once you host and register your domain, the settings won't change. But the design and aesthetic changes more often.
There are endless design choices you need to make to make the website appealing. Whether choosing the call to action button color to choosing the best font type. Even widgets and page blocks have different variations in design. The design doesn't end especially if you're a perfectionist.
4 – Writing good copy takes longer than designing a website
Once you design the aesthetic of the website, it's much longer writing content for it. Content is anything from blog posts to landing pages. It's anything from articles for SEO traffic to selling your services on the homepage.
I spent more time trying to come up with what makes my service better from the rest. I also spend time thinking about the pain points of my customers — empathy.
5 – Writing blog posts is difficult
People are wrong when they say writing a blog is sitting in front of a computer and typing random words.
Ann Handley said that "writing is a habit, not an art". This rings true. You sit down and start writing (or typing). Writing is not some magical power granted by the gods. It's pretty much sitting on your computer and transcribing your thoughts.
6 – How-to guides are easier to write (but requires more precision)
Most bloggers are in the "creative" and "lifestyle" niche. I focus on the technical side (marketing analytics) so I have to write a couple of how-to guides. I discovered that these types of content are easier because I retrace steps. Transcribing those steps lead to a how-to guide when you remember how to do something for a tool.
Writing a concept is harder to pull off. The hardest I've written is "Landing Page Optimization [A Simple Guide]". Turning it into a cohesive content format was time-consuming.
Writing how-to guides requires precision. When you're writing a technical guide about how to do something, you need to document each step.
7 – I update blog posts constantly (even after publishing them)
I discovered that I may be a perfectionist. When I re-read my published blog, there's always something I change whether a thought or grammar. I can't help it.
8 – You can rank for very niche keywords (if you're lucky)
If you search "javascript for digital marketing", my website is ranking for Top 1. These keywords super niche search volume, but for a small-time nobody like me, this is a win.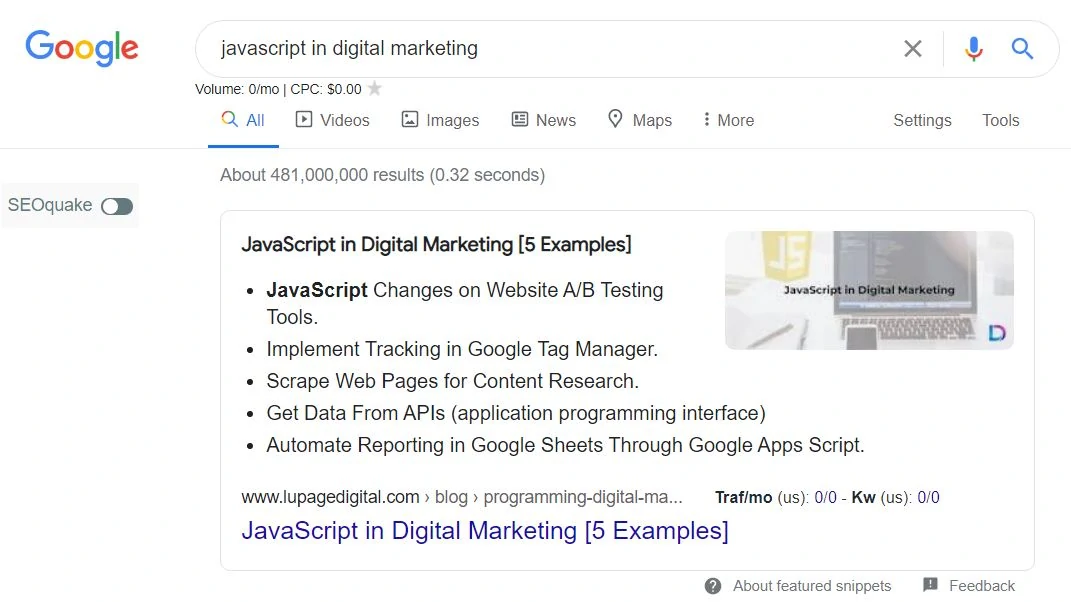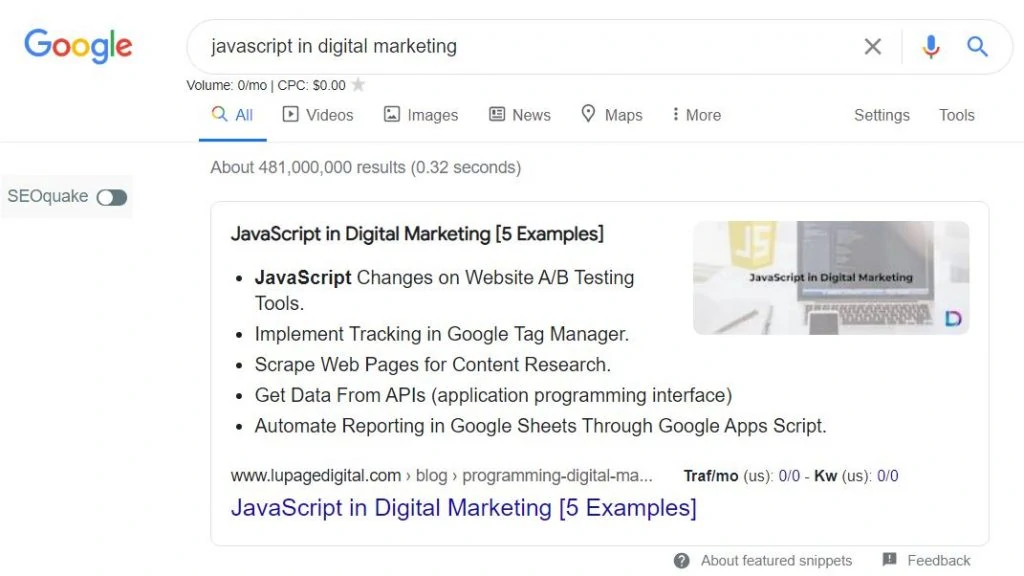 What makes me happy is I'm ranking without that much active link building.
Conclusion: Creating a Website is Super Worth It
I'm not an influencer so I won't give you a "how to build your brand!" guide. I'm also not a famous YouTuber or blogger so I won't bother. Investing in an asset that you own is fantastic for anyone who wants to own a business, blog, or personal blog. I love the ideas I get to own something.
It helped that I have experience in digital marketing. I already know the best practices in creating a website and applied them. It was a way for me to follow the advice I give clients (I work in the SEO space).
Read reasons why building a personal website is beneficial for your career.